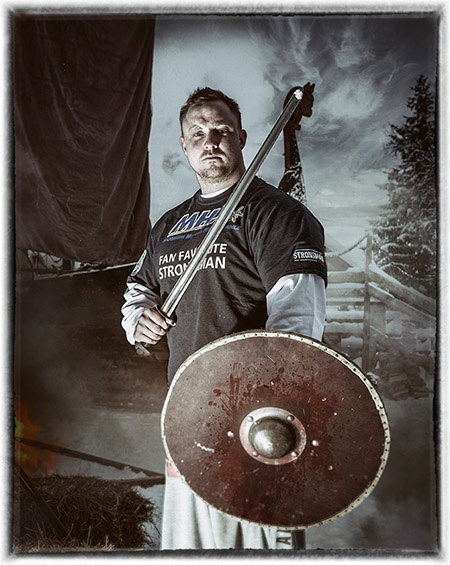 Will Bjorn Andre Solvang be World's Strongest Viking 2016? IronMind® | ©Jon Klasbu photo
SCL is set to launch its 2016 season at the Fefor High Mountain Hotel in Vinstra, Norway this coming weekend—temperatures are expected to dip down to about -30C/-22F so everyone who thinks strongman is a winter sport would say that contest conditions will be perfect.
Preview: SCL Norway–World's Strongest Viking 2016
<em>by Kikki Berli-Johnsen</em>
Up in the mountains above the little village of Vinstra, placed in the beautiful valley of Gudbrandsdalen, SCL Norway–World's Strongest Viking 2016 will be held January 30th.
It is the first stage from the MHP Strongman Champions League 2016. In total there will be 16 stages again throughout the whole year, broadcast in 95 countries, to crown the ultimate world champion at the end.
The venue is, as it was last year, Fefor High Mountain Hotel, a hotel whose walls are filled with history of poets and kings, and an atmosphere unlike anything else.
Twelve of the strongest men in the Northern Hemisphere will compete in a total of six events, where the first event will be held Friday at 8:00 PM.
The events are:
Hercules Hold.
Viking Longboat pull
Front Hold with swords
Powerstairs
Viking Press Atlas Stones
The twelve athletes are:
Krzysztof Radzikowski, Poland
Dainis Zargeris, Latvia
Johan Espenkrona, Sweden
Ole Martin Hansen, Norway
Stefan Sölvi Petursson, Iceland
J-F Caron, Canada
Matjaz Belsak, Slovenia
Jorgen Skaug Aukland, Norway
Jon Olav Granli, Norway
Aaron Page, England
Antti Mourujarvi, Finland
Bjorn Andre Solvang, Norway
According to the weather forecast, it will be very cold at Fefor this last weekend of January, down to -30C/-22F, so this battle of finding out who is the strongest Viking in the world will be tougher than ever.