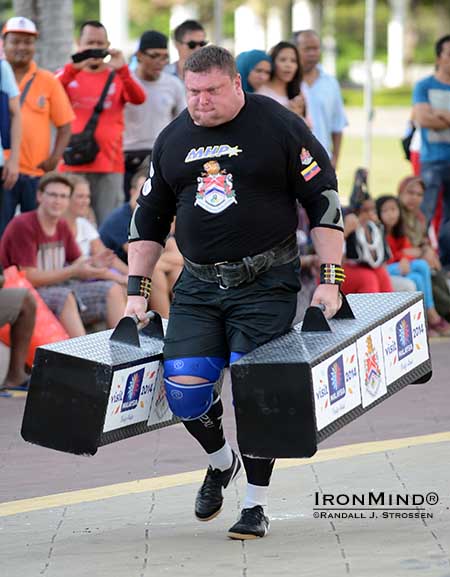 Zydrunas Savickas, the defending SCL world champion, capped off a strong first day of competition with a win in the Farmer's Walk, and he goes into tomorrow as the leader.  IronMind® | Randall J. Strossen photo
Kuala Lumpur – With temperatures in the low 30s C (low 90s F), the competition wasn't the only thing that was hot as the MHP Strongman Champions League Grand Finale had its first day of competition in Malaysia today.
Today's competition opened with a Truck Pull (harness and rope), and since it was 27-ton truck on a slightly uphill course, it was for distance.  As some of the competitors struggled to even move the truck and when Hafthor Julius Bjornsson ran out of time before hitting the finish line, it was apparent why this was a truck pull for distance.  Hafthor Julius Bjornsson won, Alex Moonen was second and Zydrunas Savickas was third.
The second event was loading four large barrels (80, 90, 100 and 125 kg) on a flatbed truck, with the competitors going in pairs.  Mike Burke won, but in the process he tore open the finger he had smashed earlier this season, although he was not going to let a little thing like that slow him down.  Savickas was second and Hafthor was third.
The SCL standard Forward Hold was third up today and because the competitors did not have their backs braced, the referees (Ilkka Kinnunen and Marcel Mostert) were keeping an especially close eye on form, calling time if they judged a competitor to have broken the rules even before their arms came down.  One minute was the mark to beat and it proved tough.  Bjorn Solvang won, and in the process, he beat two guys of proven shoulder strength: Zydrunas Savickas, who settled for second and was shaking like a leaf as he fought to hang on for each additional second, and Mike Burke, who appeared to be going strong but was called for bending his knees.
The day wrapped up with the Farmer's Walk, run in pairs: 130 kg per hand on a 20-meter course that the competitors covered up and back.  Zydrunas Savickas motored, picking up first place, with Hafthor Julius Bjornsson coming in second place and Mike Burke getting third.
Top five after the first day:
Zydrunas Savickas

47

Mike Burke

44

Hafthor Julius Bjornsson

42

Krzysztof Radzikowski

39

Ervin Katona

34
The action continue tomorrow as the MHP Strongman Champions League wraps up its 2013 season.
by Randall J. Strossen, Ph.D. | ©2013 IronMind