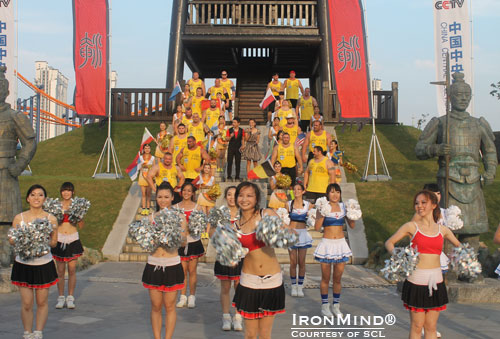 The Opening Ceremony at SCL China was on the same scale as everything else in the contest: festive and huge.  IronMind® | Photo courtesy of SCL.
SCL China began yesterday with what was reported as being a huge opening ceremony, along with 10,000 spectators at the contest and "the competition is being  filmed by CCTV1: the biggest TV channel in China, reaching over 1.47 billion people," Ilkka Kinnunen told IronMind.
"A total of 20 athletes from 20 countries battled in the first day with very impressive events: Jar Lift and Wheelbarrow," Kinnuen said.  "The Jar Lift is an overhead lift with 140 kg weight athletes did reps.  The best results were done by Zydrunas Savickas: 15 reps.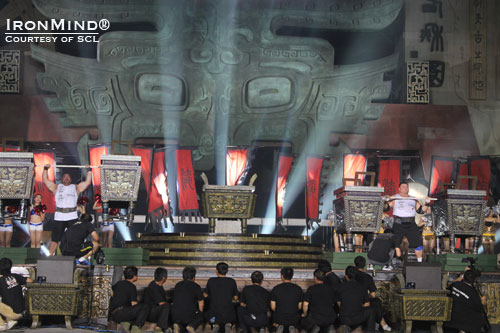 The Jar Lift is not what you might guess from its name: it's a 140-kg overhead press done for reps.  That's Ervin Katona on the left and Zydrunas Savickas on the right.  IronMindr | Photo courtesy of SCL.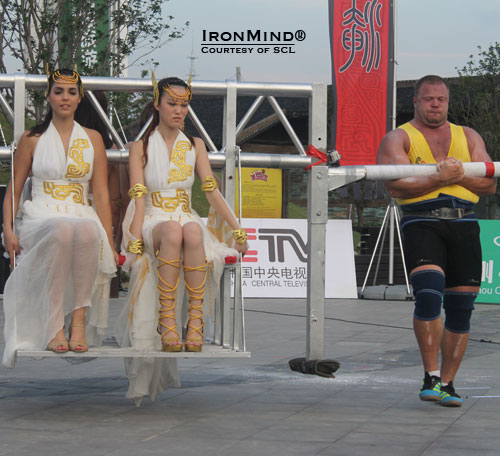 Lauri Nami performed sensationally on the Conan's Circle.  IronMind® | Photo courtesy of SCL.
"The second event of the day was the Wheelbarrow, which was loaded with 21 models and this gave a weight at the hands of 400 kg and the distance was 25 m. The winner was Johannes Årsjö, who was the only one who finished the course in under 12 seconds.
"The top three after first day were: Zydrunas Savickas, Johannes Årsjö, Laurence Shahlaei and today we continued with the Forward Hold, Conan Circle and Hercules Hold
"Again we saw some excellent performances from the athletes, especially because the weather was really hot today, around +40 C [over 100 F].  This, of course, took a lot energy out from the athletes.
"We started today with the Sword Forward Hold.  In this outstanding venue, Zydrunas Savickas was first with a time of 1 minute 9.73 seconds, followed by Laurence Shahlaei (second place) and Antti Mourujärvi (third place).
"The second event of the day was the Conan's Circle: The full circle was 48 m and athletes carried four models for a total weight of 320 kg.  The winner of the event, with an outstanding result, was Lauri Nämi, 64.90 m, and just 40 cm shorter was Paul Pirjol, with a result of 64.50 m. With these results, Lauri and Paul crushed the whole field by more than 12 m.  Laurence Shahlaei came in third with 52.05 m.
"Tomorrow, again we are expecting 40 degrees C and it is very humid heat. We will start with the Hercules Hold, followed by the Truck Pull and the Car Deadlift."
Not all is tough, though, because Kinnunen told IronMind, "Despite the hard work every day, we are still able to relax in a beautiful 5 star hotel and enjoy excellent food."
Here are the top ten, officially, after the second day of SCL China:
Zydrunas Savickas

71.0

Laurence Shahlaei

69.5

Ervin Katona

67.0

Travis Ortmayer

56.5

Paul Pirjol

55.0

J-F. Caron

52.5

Misha Shivlyakov

49.5

Konstantyn Ilin

48.5

Lauri Nämi

46.0

Warrick Brant, Antti Mourujärvi

40.0
by Randall J. Strossen, Ph.D. | ©2012 IronMind