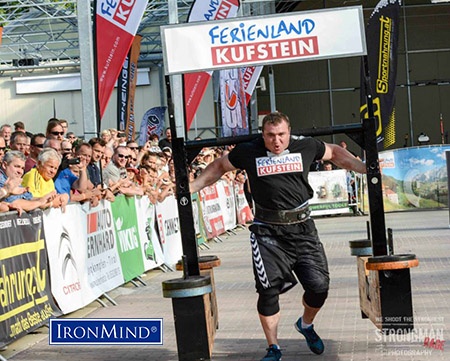 "Marius Lalas won his first Strongman Champions League in Austria. He finished first with the 400 kg (880 lb.) Yoke for 20m in 12.14 seconds." – Aryn Lockhart, reporting from the field. IronMind® | Image courtesy of Strongman Rage
A first stop in Austria, the comeback of Martin Wildauer, and his first SCL victory for Marius Lalas—SCL Austria broke fresh ground on multiple fronts, and Aryn Lockhart gives IronMind an insider's view.
Marius Lalas Wins His First Strongman Champions League in Austria
by Aryn Lockhart/Strongman Rage
Sometimes what goes on behind the scenes is as much of a story as what goes on in front of the cameras. This weekend marked the first time the MHP Strongman Champions League came to Austria. For the 9th stage of the SCL series, Martin Wildauer organized the contest and competed before over a thousand screaming fans.
Wildauer, who was the 2014 SCL World Champion, marked his comeback in his hometown of Kufstein, Austria. After sustaining two major injuries in less than a year, Wildauer impressively placed 4th for the day. At the Malaysian finals, despite snapping his Achilles tendon, he accumulated enough points to become the overall SCL World Champion. He then returned in April at the FIBO only to injure his bicep and need further recovery time.
In the meantime, instead of rest and recovery, Wildauer set out to establish a new strongman federation in Austria (www.strongman-austria.at) with his goal of bringing SCL to his hometown.
"It's been crazy and stressful with many late nights, but I'm excited to have the Austrian Strongman Federation established and proud that we were able to bring SCL to my home," Wildauer stated.
The competition did not disappoint. The fans were outstanding, providing unbelievable support to all of the athletes in a very heavy competition. The energy and excitement rocked the hall located at the bottom of the beautiful alpine mountains of Tirol.
The day started with the extremely heavy 18 ton truck arm over arm. Matjaž Belšak won the event with 37.28 seconds. Marius Lalas took second with 38.73 seconds.
Event two was the 400 kg (880 lbs) yoke for 20 meters. Marius Lalas flew down his lane in only 12.14 seconds with Krzysztof Radzikowski behind him by over a second with 13.37 seconds.
Event three was the car deadlift of 350 kg (770 lbs). Impressively, Belšak completed 15 reps edging out both Wildauer and Radzikowski who finished with 14 reps.
Halfway through the day, results were looking interesting. The next event was the extremely heavy 155 kg famer's walk for 40 m. Even for some of the strongest men on earth, this was extremely heavy. Only Wildauer and Razikowski finished the entire course with Krzysztof taking first with 41.89 seconds and Martin a much slower 70.89 seconds.
The fifth event was the 95 kg (209 lbs) dumbbell. With no surprises, Belšak went to business doing what he does best and knocking out an unbelievable 10 reps. He quickly found his rhythm and there was no stopping him. Right behind him was Radzikowski with 9 reps.
The final event of the day was loading four 100 kg (220 lbs) kegs onto a platform. The athletes raced in pairs and it was Marius Lalas that took first with 26.61 seconds. Matjaž Belšak took second with 29.66 seconds.
When it was all said and done, Lala's lightening fast loading propelled him into the lead sealing his first ever Strongman Champions League win. He just barely won in front of Radzikowski by a mere half a point.
"I could not believe I won," said Lalas with a big smile. "I was lucky there were a lot running events. The yoke was definitely my favorite."
Wildauer was pleased with the outcome of the entire day. He said, "It was extremely hard to balance my full time work, my training and the organization of the event, but I'm glad it turned out so great. I loved seeing fans come from all around to see their super heroes live." The athletes were thrilled with the competition and its organization. Wildauer continued, "As an athlete myself, I really wanted to organize an event I would want to attend."
After the midnight oil was burned, the competition complete, it's back to business as usual. Martin will compete in SCL Romania this weekend, which is the fourth consecutive weekend for SCL. Stay tuned as we're just a little over half way to the world championships in Malaysia.
Final results:
Marius Lalas

74 points

Krzysztof Radzikowski

73.5 points

Matjaž Belšak

72 points

Martin Wildauer

65 points

Dainis Zageris

58.5 points

Andreas Altmann

49 points

Akos Nagy

42 points

Lauri Nami

41.5 points

Bjorn Andre Solvang

41 points

Nemo Tasic

35 points

Manuel Comper

27 points

Marcos Ferrari

24 points

Oliver Hanscheck

13 points

Rob Frampton

7 points (Injury)
by Randall J. Strossen, Ph.D. | ©2015 IronMind