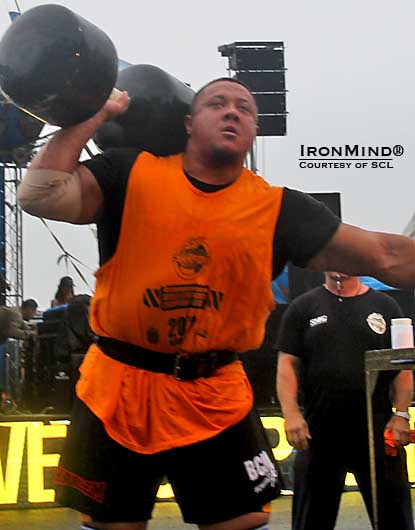 Misha Koklyaev won the Giant Dumbbell for reps, with two reps on this 120-kg dumbbell—believed to be the heaviest ever used in a strongman contest, Ilkka Kinnunen told IronMind®.  IronMind® | Photo courtesy of SCL.
A little rain didn't dampen the enthusiasm of 5,000 strongman fans in Vladivostok, Russia this weekend, where Misha Koklyaev took top honors at SCL–Russia, Ilkka Kinnunen reported to IronMind.
SCL Russia-Misha Koklyaev Wins in Homeland
by Ilkka Kinnunen, Strongman Champions League
It was again great competition when the top strongmen battle for the title in city of Vladivostok, Russia.
The competition was organized by SMG and its founder Mr. Eduard Sandler, in co-operation with PLSE.  The competition started at 6 p.m. Saturday in light rain, but warm weather, however this did not frighten the people (approximately 5,000) who came to watch eight strongman competitors in six heavy events.
The first event was Weight for Height, with 25 kg and a starting height of 4.20 m. This was three men show focussed on Misha Koklyaev, Johannes Årsjö and Ervin Katona.  The battle went however to Misha with the result of an easy 5.40m.  Johannes Årsjö  was second with 5.20 m and third was Ervin Katona with 5.00 m.
The second event was the Giant Dumbbell Press for reps in 90 seconds.  I believe this was the heaviest Dumbbell ever used in a strongman competition: 120 kg!!! although the athletes could choose 100 kg Giant Dumbbell instead if they wanted to.  Two athletes went to the 120 kg one: Johannes Årsjö and Misha Koklyaev.  This time Misha was strongest presser doing 2 reps with 120 kg and I believe this is a new world record with the heaviest Dumbbell done in competition. Johannes did 1 repetition which is also an excellent result with that weight.  Third was Konstantin Ilin 7 reps with 100 kg. Unfortunately Ervin Katona injured his biceps lifting the dumbbell and was out of the battle for the victory.
The third event was the Log Lift for reps: 160-kg log and 60-second time lmit. This was great to watch when Misha and Johannes went in the last pair.  Both wanted good results and top points, however in the end, the result was tie: did 5 reps.  Konstantin Ilin was third with 3 repetition.
The Car Deadlift was the fourth event and the weight was pretty easy for these guys. Misha Koklyaev won the event with 18 reps, second was the other Russian, Vladimir Kalinicenko, with 17 reps and third was Marius Lalas (Vytautas Lalas' younger brother) with 16 reps.
The fifth event was Keg Loading: 4 kegs, 10 m distance each. The fastest was Mariuz Lalas with 27.5 seconds.  Johannes Årsjö was second (28,12 sec) and Lauri Nami was third (28.16 sec).
The last event was the Forward Hold with 25-kg cylinders. This event goes from competition to competition and athletes are getting better and better. One week ago in Poland, Zydrunas Savickas did a new world record and now two more athletes came close to that time.  The winner with an injured biceps was Ervin Katona (1.09.15 sec), Alex Moonen was second (1.04.51sec) and Misha Koklyaev was third (54.78 sec).
Official final results:
Misha Koklyaev (Russia)

42.5

Johannes Arsjo (Sweden)

36.5

Mariuz Lalas (Lithuania)

24.5

Vladimir Kalinichenko (Russia)

23.0

Konstantin Ilyin (Ukraine)

22.0

Lauri Nami (Estonia)

22.0

Alexander Moonen (Holland)

21.5

Ervin Katona (Serbia)

17.5
Next stop for SCL: Gibralter.
by Randall J. Strossen, Ph.D. | ©2012 IronMind