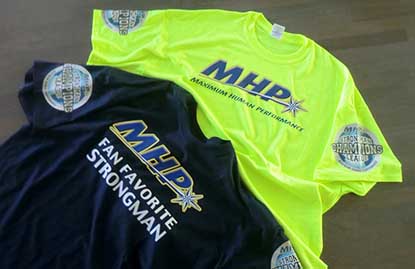 Strongman Champions League had already introduced the idea of a leader's shirt to their strongman series.  This year, they are complementing that with a fan favorite shirt.  IronMind® | Image courtesy of SCL.
"We present two new shirts for the coming SCL season," SCL cofounder Marcel Mostert reported to IronMind today.
"One shirt is the former orange 'leader' shirt. In 2013 the MHP Strongman Champions League (SCL) leader shirt will be yellow and it stands for the highest-ranked strongman in the league for 2013. After each competition there can be a new leader, but he will always wear the same shirt.
A complete new introduction will be the navy blue 'Fan Favorite Strongman' shirt," Mostert said. The best performer, greatest entertainer, [most] loved by the public will get this shirt, by votes of the public. Therefore, this athlete doesn't need to be the absolute strongest; he can be 3rd or 5th, but still he can win the award as the 'Fan Favorite Strongman.' We introduce this because we want to see more show, action and entertaining from the athletes besides their extraordinary strength performances. Each competition, the public will judge this and an extra cash prize will be given for this.
In two weeks we will know who is the new SCL leader and the Fan Favorite Strongman after our first show at 16 March, The Iceman IV in Lapland," said Mostert. SCL is the largest series in strongman and the top five competitors, overall, are expected to go on to compete in the 2013 World's Strongest Man contest.
by Randall J. Strossen, Ph.D. | ©2013 IronMind