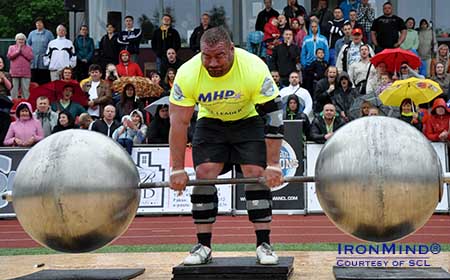 Ervin Katona is the 2013 SCL overall leader so far—watch for Katona and other top strongman competitors this coming weekend as MHP SCL goes to Pilzen, Czech.  IronMind® | Photo courtesy of SCL.
"Although the countries in middle Europe are over flooded with water at the moment, like in Czech, Austria and Germany, the MHP Strongman Champions League train will stop anyway at 8 June in Pilzen, for the SCL Czech 2013," Marcel Mostert reported to IronMind today.
"It is the 5th stage of SCL and we hope that all will be ok there and that we will keep our dry feet," said Mostert.
"Six heavy events, such as the Apollon's Axle, Frame Walk, Wheel Flip, Forward Hold, Conan's Wheel and the Super Yoke will be done. The top 6 leaders of the MHP Strongman Champions League will be present as well: Ervin Katona, Dainis Zageris, Krzystof Radzikowski, Tomi Lotta and Vytautas Lalas . . . a very strong field guarantees a super strong show again in the SCL," Mostert said.
Here is the official start list:
Krzysztof Radzikowski (Poland)
Ervin Katona (Serbia)
Vytautas Lalas (Lithuania)
Lauri Nami (Estonia)
Dainis Zageris (Latvia)
Terry Hollands (UK)
Tomi Lotta (Finland)
Martin Wildauer (Austria)
Konstantin Ilin (Ukraine)
Golier Brano (Slovakia)
to be announced (Czech)
to be announced (Czech)
to be announced (Czech)
to be announced (Czech)
And while you are waiting for this weekend's strongman action from SCL, check out the new 2013 MHP SCL Serbia trailer.
by Randall J. Strossen, Ph.D. | ©2013 IronMind