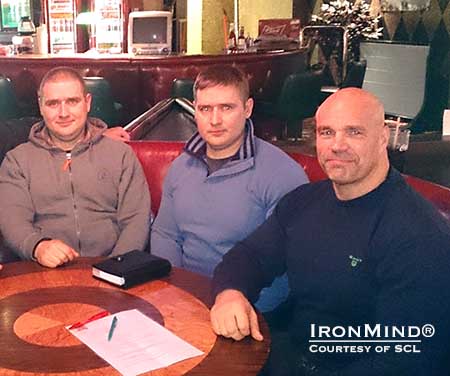 SCL signed an agreement with Protekton Ltd: pictured (left to right) are Protekton owners, Jarek and Marek Tobi, and SCL cofounder, Ilkka Kinnunen.  IronMind® | Photo courtesy of SCL
"The MHP Strongman Champions League and Protekton Ltd signed an agreement to continue cooperating and sponsoring  in season 2014 worldwide," Marcel Mostert reported to IronMind today.
Ilkka Kinnunen went to Estonia personally to sign up with the two directors from Protekton Ltd, Jarek and Marek Tobi.
With this agreement, Protekton Ltd becomes the official sponsor of the Association of Professional Strongman in Estonia.
Protekton Ltd specializes in the project-based manufacture and installation of steel building construction in Estonia, Finland, Sweden, Russia and Germany.
Competing this season are three of the best strongmen from Estonia: Lauri Nämi will begin his first competition in Martinique, Meelis Peil is also in very strong shape and will participate in future events and Rauno Heinla is ready to make his comeback from injury.
"We are very pleased that the agreement has been signed. It will give our athletes the opportunity to represent Estonia in biggest strongman league worldwide," said Marek Tobi, Production Manager of Protekton Ltd.
"Estonia has strong athletes and the best way to prove it, is to have them in Strongman Champions League event," said Janek Tobi, Chairman of the Board of Association of Professional Strongman in Estonia.
"We are really thankful to Protekton Management that they have helped us to continue our long-time cooperation with the Strongman Champions League," Kinnunen said.
Mostert pointed out that expansion MHP Strongman Champions League in 2014 continues.
"On the 2014 SCL calendar, another contest has  been added: a special team event in Tallin, Estonia on October 18," he said.
"And besides Protekton as the official side sponsor, the MHP Strongman Champions League also signed up SPX Powerteam again and another newcomer called  Strongman Rage.
"Strongman Rage produces and sells special clothes with unique logos. They  will supply a lot of clothes for SCL and will start selling  products on behalf of SCL in their webshop.
"They will produce special SCL clothing for us,  special logos, fun articles etc. All sold by their webshop, beginning April 5 with the FIBO Germany.
by Randall J. Strossen, Ph.D. | ©2014 IronMind