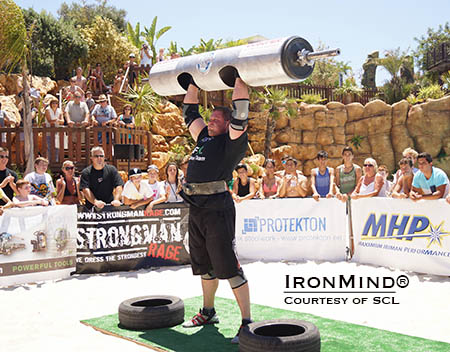 Martin Wildauer completes six reps in the overhead log event (140 kg).  IronMind® | Photo courtesy of SCL
SCL Portugal produced close battles and a change in overall positions as Martin Wildauer surged to the top of the list.
2019 SCL Truck Pull Championships
by Marcel Mostert
Strongman Champions League (SCL)
This past weekend in Portugal resulted in a complete shift of the MHP Strongman Champions League leader board with Martin Wildauer (Austria) barely edging out Dainis Zageris (Latvia) for the win. Wildauer's win launched him from third place into the overall leader position. In the closest SCL to date, Zageris and Wildauer went head to head for each event. The intensity culminated with the two athletes pitted against one another for the tire flip as the deciding event. The competition was so intense and so close that they ended the competition with equal points after six events. With nail-biting anticipation, Wildauer claimed the win after the totals revealed he had won three events and Zageris had won only one.
The first three events were the front hold, 30 kg (66lb.), the 140kg (308lb.) log for reps and hand over hand bus pull with a slight uphill incline that allowed only two athletes to complete the event.  With clear skies and perfect, tropical temperatures, the athletes battled through the first three events and then had a four-hour break coming back to complete the last three events in the evening.
"This was the most intense competition I have ever done," Martin Wildauer stated. "After the first three events, I was only in fourth place. At that point, my goal was to place within the top three." Wildauer continued, "The break was just what I needed. I rested and came back ready to go for the win."
The athletes returned to finish the final three events that evening. The car deadlift for reps (360kg – 792lb.), frame walk of (360kg- 792lb.) for 30 meters and the wheelflip. Wildauer came out in a fury winning all of the evening events.
"This has to be one of the closest competitions we've ever had," stated Marcel Mostert, Strongman Champions League director. "If Dainis Zageris would have been 0.7 seconds faster in the wheel flip, he would have won the competition. That's how close it was."
The current leader board has Martin Wildauer with 89 points after seven stages. Ervin Katona is still very much a contender with 83 points and Hafthor Bjornsson has 75 points. The chase is on and it's an all out war as these top athletes take a short and much needed break. The next stage of the MHP Strongman Champions League will take place on the 19th of July in Croatia.
Final results:
Martin Wildauer – Austria

51 (won 3 events)

Dainis Zageris – Latvia 

51 (won 1 event)

Lauri Nami – Estonia

46

Ervin Katona – Serbia

45

Simon Johnston – Wales

36

Marcos Ferrrari – Brazil 

31

Sergio Fernandez – Spain 

24

Aderito Santos – Portugal

15

Luis Batista – Portugal 

11

Tim Enersen – Norway

4
by Randall J. Strossen, Ph.D. | ©2014 IronMind