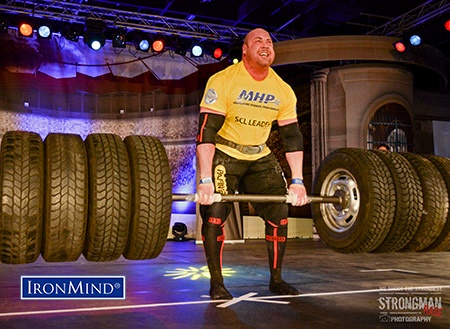 Battling weather delays and traveling for 32 hours, JF Caron impressively won the 350kg Axle Deadlift at SCL FIBO with 11 reps, tying the mighty Zydrunas Savickas' record. IronMind® | Courtesy of Strongman Rage
Battling weather delays and traveling for 32 hours, JF Caron impressively won the 350 kg Axle Deadlift at SCL FIBO with 11 reps, tying the mighty Zydrunas Savickas' record. IronMind® | Courtesy of Strongman Rage
It was a battle to the end, but Krzystof Radzikowski edged out Matjaž Belšak on count back to claim victory at the Strongman Champions League-FIBO.
Radzikowski and Belšak Have a Repeat Performance Taking First and Second at SCL FIBO 2016
By Aryn Lockhart/Strongman Rage
On Saturday, for the second time in a row, Krzysztof Radzikowski won the MHP Strongman Champions League FIBO held in Cologne, Germany. And for the second time in a row, to Matjaž Belšak's disappointment, he took second place. In a fast-paced, heavy competition Radzikowski and Belšak went down to the wire finishing the competition with the exact same points (65.5). It was only because Radzikowski won two events that he was able to take the win.
This year's competition, held at the largest fitness expo in the world, was witness to a new world record in frame carry and JF Caron tying the record for the axle deadlift held by Zydrunas Savickas.
The legendary Heinz Ollesch (12x Germany's Strongest Man) hosted the tenth Strongman ClassX. With some of the best equipment in the strongman world, the stage was set for battle and 14 athletes from around the world were ready to get the second stage of the MHP Strongman Champions League underway.
The day began with the Conan's Wheel. With 460 kg (1,012 lbs) pressing down and making breathing excruciating with every step. Andreas Altmann and Matjaž Belšak tied for first place with 1,120 degrees. Round and round they go. Third place in this event went to Dainis Zagaris far behind with 830 degrees.
Event two was the Giant Log. This log is larger than the standard log. It is 36cm wide and three meters long. With no surprises, Radzikowski won this event with 200 kg (440 lbs). He dared to break his world record from last year, with 207.5 kg (456.5 lbs), but just barely fell short unable to lock out his right arm. His 206 kg (453.2 lbs) world record would stand for another year. Second in this event was Dainis Zagaris with 190 kg (418 lbs) and Matjaž Belšak with 180 kg (396 lbs).
Event three was a 300 kg (660 lbs) frame for distance. Martin Wildauer previously held this world record with 60 m. Grip strength and endurance are the keys to this event. This field of athletes had some of the best grips in the world. First place with a new world record was Stoyan Todorchev from Bulgaria. He won the event smashing Wildauer's record with 80 m (262 ft). Stoyan is hard to beat when he's carrying any kind of weight. He takes off with lightening speed and just keeps going. Second in this event was Cestmir Sima from the Czech Republic far behind with 55.30 m (181.5 ft) and third came from the giant newcomer from Ireland who stands over 2.1m (6'10")tall, Sean O'Hagen with 51.15m (168 ft).
Event four was the front hold. With 30 kg (66 lbs) outstretched in front of the athletes, there is no question, the front hold is one intense power event. Krzysztof won this event with 43.80 seconds. Andreas Altmann placed second with 42.04 seconds and Raffael Gordzielik from Germany took third with 41.60 seconds.
The fifth event before heading to the main stage was the atlas stones ranging from 140kg-180kg (308-396lbs). Last year Matjaž Belšak smashed the long standing record on these stones. This year he won the event with 20.59 seconds, but didn't quite break his record. He was just under a second slower. JF Caron took second in this event with 23.03 seconds. Stoyan Todorchev took third with 24.81 seconds. JF Caron was finally starting to get into the groove. He had horrible travel challenges to get to the FIBO. While Germany was breaking into spring, Caron was dealing with winter storms and delays leaving Canada that left him traveling 32 hours to finally arrive at the FIBO on the morning of the competition. Without any rest, he was tapping into all of his reserves and still performing impressively. Despite his travel woes, he was still motivated throughout the day. In true strongman spirit, after Caron completed the event, he turned to support Raffael Gordzielik. As Gordzielik struggled with his final atlas stone, Caron offered tacky from his own arm helping Rafael to complete the event.
The final event was the 350 kg (770 lbs) axle deadlift. Heinz Ollesch explained what makes this event so difficult is that the bar does not bend which means you are moving 350 kg the moment you pull. After learning of Caron's travel challenges, it was unbelievable to watch him take the stage and knock out 11 reps as if it were nothing. With this amazing performance, he won the event and tied Zydrunas Savickas' record. Four athletes took second with eight reps to split second place. Zagaris, Todorchev, Belšak and Radzikowski. Belšak and Radzikowski entered the event tied with 54 points. Since they completed the same number of reps, they ended competition with the exact same points. It was only because Radzikowski won both the front hold and the log lift that he was able to take first overall.
After speaking with Krzysztof, he was excited to win his second FIBO in a row. "I came and I won." When I inquired if he was concerned at all since he barely beat Belšak he explained, "After the first three events, I didn't think I could win. I was eight points behind, but after that were power events. I am much better at those than frame for distance or Conan's wheel."
Belšak had to settle for second place again. He could not have come closer to a win. When I asked if he was disappointed, his response was, "Ervin Katona told me he came in second place eight times before winning his first SCL. It will come." He went on to explain he is hopeful he will take his first win this year.
The strongman season is just beginning to head into full swing. The third stage is up next on 21 May for the World Log Championship in Lithuania. The season promises to be exciting with new locations for MHP Strongman Champions League throughout the world. We've only completed stage two and already, JF Caron has lost the leader shirt and Radzikowski is back in the lead.
Competition Results
Krzysztof Radzikowski / Poland

65.5 pts

Matjaž Belšak / Slovenia

65.5 pts

Stoyan Todorchev / Bulgaria

64 pts

JF Caron / Canada

57.5 pts

Dainis Zagaris / Latvia

57.5 pts

Andreas Altmann / Germany

53.5 pts

Cestmir Sima / Czech Republic

50 pts

Alex Moonen / Netherlands

46 pts

Raffael Gordzielik / Germany

42.5 pts

Aaron Page / UK

33.5 pts

Akos Nagy / Hungary

31.5 pts

Sean O'Hagen / Ireland

30.5 pts

Nemo Tasic / Austria

19.5 pts

Julian Groth / Germany

10 pts