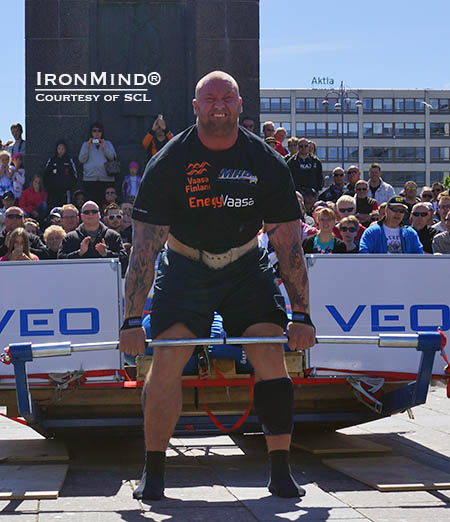 Hafthor Julius Bjornsson notched a win at SCL Finland this weekend.  IronMind® | Photo courtesy of SCL
"The deadlift for reps with 350 kg opened the second day of competition. The bar was 2 cm lower than a normal bar, which of course made the lift even harder. There were three athletes sharing the first position with 8 reps: Marius Lalas, Rauno Heinla and J.F. Caron. Dainis Zageris and Martin Wildauer made 7 reps. After first event, Rauno Heinla took the overall lead.
"Next was the Forward Hold with 25 kg, back against the wall. The Finnish Viking Antti Mourujärvi showed that he is still one of the best in the event, doing time of 57.88 seconds. Lauri Nami was second with 55.75 seconds and third, the new future Finnish strongman star, 24-year old Arto Niemi Nikkola with 53.25 seconds. Rauno Heinla´s time of 41.17sec. put him in 11th position in the Forward Hold, changing the leader before the last event.
"The House Frame carry (350 kg, 18m) plus three IronMind sacks with 100 kg loaded to 125-cm platform, each carried a 5-m distance, was the last competition event in MHP SCL Vaasa.
"Thor Björnsson who was leading after the last events showed his Icelandic power as he won the final event in a time of 25.31 seconds. Marius Lalas gave Thor a good fight stopping the watch in time of 26.72seconds and third was Rauno Heinla, at 29.00 seconds.
"Strongman Champions League thanks the City Of Vaasa their support and all the other sponsors, as well."
Overall Points
Hafthor Björnsson

58 p

Marius Lalas

55 p

Rauno Heinla

53.5 p

Martin Wildauer

52.5 p

Lauri Nami

49.5 p

J.F. Caron

47.5 p

Dainis Zageris

37.5 p

Ervin Katona

32 p

Arto Niemi Nikkola

27.5 p

Antti Mourujärvi

26 p

Kevin Larsen

17 p

Patrick Odwyer

5 p
by Randall J. Strossen, Ph.D. | ©2014 IronMind