"Marcel Mostert called it an unbelievable experience as Sarajevo as the Strongman Champions League (SCL) contest collided head-on with a winter storm."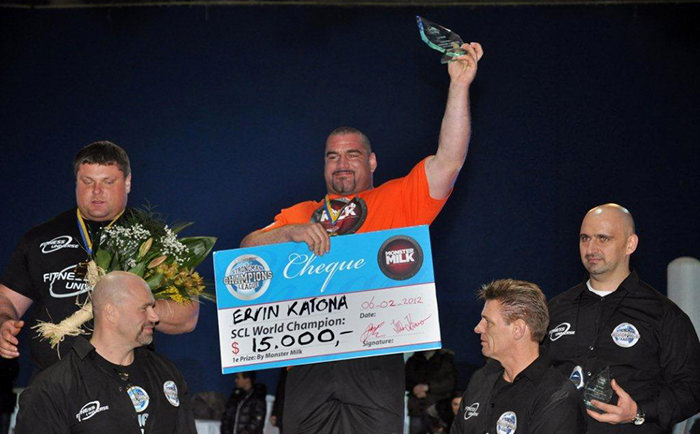 Ervin Katona (center) won the 2011 Strongman Champions League World Championships and received the US$15,000 Monster Milk–SCL check from SCL cofounders Marcel Mostert (left) and Ilkka Kinnunen (right). IronMind® | Courtesy of SCL.
Sarajevo "was covered under 2 meters of snow with a temperature of minus 15 and with the public traffic totally stopped. We had in 1 night 1.6 meters of snow fall," Marcel Mostert told IronMind." Ervin Katona couldn't even find his car back as he drove to the competition from Serbia." Still, the show must go on, especially after the canceling from the finals in December and now again because of the snow.
"With great organizing and re organizing schedules from the SCL organization in Bosnia, we managed to have the finals on Monday instead of Saturday. Meanwhile, we had to wait three days to begin the finals, but because it was in a beautiful 5 star hotel with great food and drinks , it was not really a punishment. So, well rested and with full stomachs we could start on Monday in the Olympic Zetra Hall in Sarajevo, built in 1984 for the Olympics.
"And Ervin Katona felt like an Olympian when he was crowned as the World Champion SCL 2011. Andrus Muremets, Terry Hollands and Zydrunas Savickas have already won this title and now also Ervin Katona." It's the happiest day of my life, after being in second place two years to finally win the title! He finished in the competition in third place, behind Jean-Francois Caron from Canada and the winner of Bosnia, Zydrunas Savickas. Caron did a great performance, as he finished again second place and with a win in the car deadlift of 370 kg with 10 reps.
"Zydrunas did a world record on the Log Lift with 215 kg. I have never seen Zydrunas doing a log lift so easy with these kilograms. UNBELIEVEBLE. The man is in great shape—maybe the best ever! The log was a bit thinner than the official log we always use for world records, as it is normally above a 30 cm diameter. This log was 27 cm and therefore we recognize it as a world record on the small log. But it's just a matter of time and Zydrunas will do this year already a 220 log I think.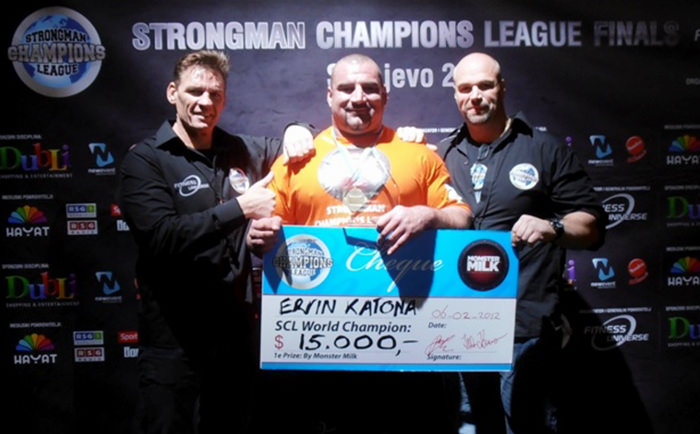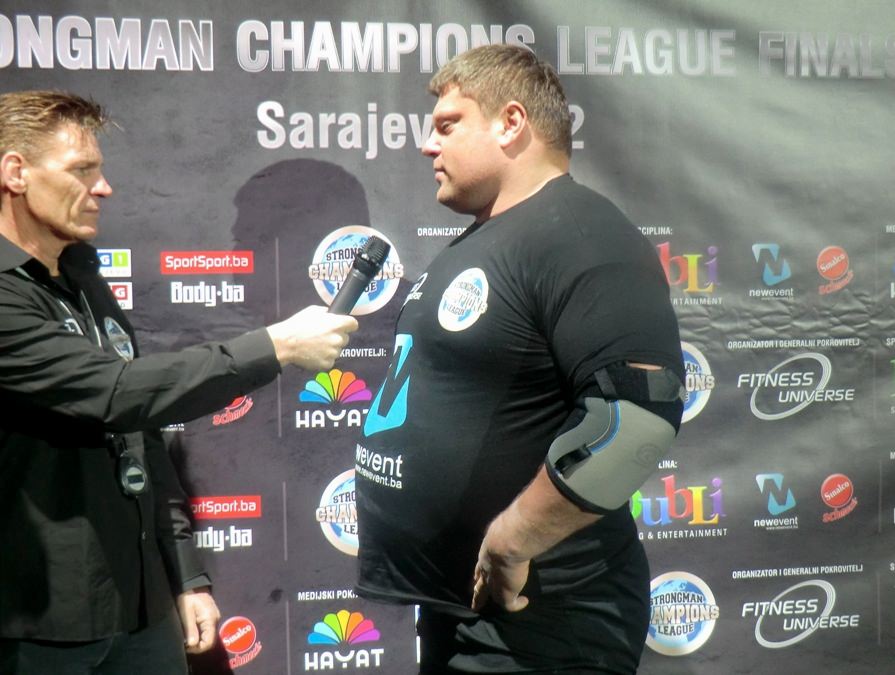 "Marcel mostert (left) said he thinks zydrunas savickas (right) will do a 220-kg log this year."
"In total US $30,000 was been paid to the athletes and the Monster Milk SCL cheque of US $15,000 went of course to the new SCL world champion, Ervin Katona. "Laurence Shahlaei couldn't be at the finals at the last moment and was replaced by Lauri Nami of Estonia. Still, he was already in a safe third place. Gregor Stegnar had a wild card as the local here in Bosnia," Mostert said.
Here are the official final places and points:
Zydrunas Savickas (Lithuania) 59.0
Jean-Francois Caron (Canada) 51.5
Ervin Katona (Serbia) 50.0
Jimmy Laureys (Belgium) 43.5
Lauri Nami (Estonia) 37.0
Martin Wildauer (Austria) 36.0
Konstiantin Ilin (Ukraine) 32.0
Tomi Lotta (Finland) 30.0
Agris Kazelniks (Latvia) 25.0
Gregor Stegnar (Slovenia) 15.5
Akos Nagy (Hungary) 9.5
And the overall top three for the 2011 SCL World Championships, officially were:
Ervin Katona Serbia) 195
Zydrunas Savickas (Lithuania) 175
Laurence Shahlaei (Iran) 106
"This final will be broadcast at 24 February on Eurosport," Mostert said.Our first contest of the new season 2012 starts already in four weeks, the SCL Lapland 2012 [aka The Iceman III) on March 9. More news about this coming soon.
"Welcome to the new season 2012!"
by Randall J. Strossen, Ph.D. | ©2011 IronMind