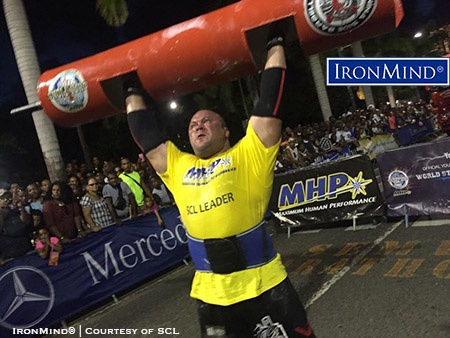 Dainis Zageris tied for for first on the Log Lift for reps, on his way to winning Strongman Champions League (SCL) Martinique. IronMind® | Photo courtesy of SCL
Latvian strongman Dainis Zageris took top honors at SCL Martinique and SCL cofounder Ilkka Kinnunen reported on the action for IronMind.
Dainis Zageris in Victory MHP SCL Martinique
by Ilkka Kinnunen, co-founder Strongman Champions League
Last weekend The SCL gathered to Martinique and its capital Fort-de-France for two days of competition. This was a third time in past three years that the organizer Pierre Emmanuel Jos hosted an SCL series event, and once again, he did it with great success: Around 15,000 people cheered and watched the SCL strongman giants compete in a total of 7 disciplines.
Both days the weather was nice, around +30 Celsius (about 86 F), sunny with a light wind.
The first day or competition started with the Truck Pull, using a Harness and Rope. It was a 10-ton truck and the course was 25 meters and slightly uphill. Canadian J.F. Caron had the best time, 28.70 sec. Latvian Dainis Zageris was second and Bulgarian Stoyan Tordochev was third.
Next was the Log Lift for reps, using a 140-kg log. Dainis Zageris and Slovenian Matjaz Belsak tied for first place, with 9 repetitions, and third was J.F. Caron, with 7 reps.
The last event of the day was Car Deadlift (350 kg) for reps and J.F. Caron did amazing 15 repetitions to easily win the event. Second was Dainis Zageris (10 reps) and third was Matjaz Belsak (9 reps).
The second day started with Forward Hold, using 30 kg total weight. The winner was Holland's Alex Moonen (52.02 sec). Dainis Zageris was second (51.52 sec) and third was J.F. Caron (49.75 sec).
Next was the Hercules Hold with Cars. Stoyan Tordochev won (27.40 sec), second was Dainis Zageris (23.84 sec) and third was Swedish strongman Johan Espenkrona (21.77 sec).
The sixth event was an arm-over-arm Truck Pull: 10 ton and 25 m. Matjaz Belsak won (43.76 sec), Dainis Zageris was second (46.66 sec) and the UK's Daniel Garcia was third (48.91 sec).
The last event of the competition was Tyre Loading, and the winner was Matjaz Belsak (15.06 sec), followed by Dainis Zageris (18.66 sec) and Johan Espenkrona (19.59 sec).
Overall Results:
Dainis Zageris

49.5

J.F. Caron

41 p

Matjaz Belsak

35.5

Stoyan Tordochev

31 p

Johan Espenkrona

26

Aurelien Le Jeune

25.5

Alex Moonen

22

Daniel Garcia

20.5
by Randall J. Strossen, Ph.D. | ©2015 IronMind