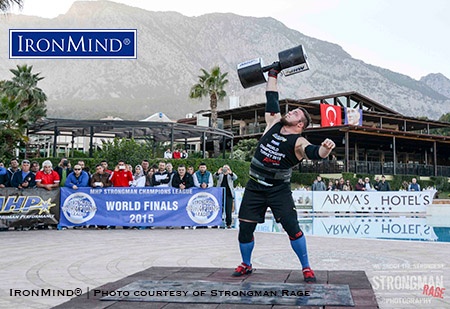 Matjaz Belsak won the second event in the 2015 SCL World Championship finals with ten reps with a 95kg dumbbell. IronMind® | Photo courtesy of Strongman Rage
Krzysztof Radzikowski led after day of the 2015 MHP SCL finals, with he eye fixed on becoming the 2015 Strongman Champions League World Champion.
MHP Strongman Champions League Final Day One
<em>by Ayrn Lockhart/Strongman Rage</em>
Day one is complete here in Antalya, Turkey and the competition is heating up. Krzyzsztof Radzikowski has his eyes set on becoming the World Champion, but Dainis Zagaris doesn't plan to let that happen. After a day of sightseeing at the Antalya Aquarium, home of the biggest tunnel aquarium, it was time to get to work. Yesterday, two events were completed with three events scheduled for today.
The first event was the front hold which took place on stage in an open air amphitheater. Bjorn Solvang took an impressive first place with 51.17 seconds. Alex Moonen took second 48.53 sec and Krzysztof Radzikowski 47.64 seconds.
The second event was the 95kg dumbbell for reps. True to form, Matjaz Belsak came in first with an impressive 10 reps. Radzikowski took second with nine reps and JF Caron and Marius Lalas tied for third with 8 reps.Tomorrow will be the ultimate crowning of the MHP Strongman Champions League World Champion. With the truckpull, shot put and loading on the beach front, it's set to be another amazing day with a battle to the very end.
Here are the standings after yesterday's events:
Krzysztof Radzikowski

17 pts

Alex Moonen

15 pts

Bjorn Solvang

13.5 pts

Marius Lalas

11.5 pts

Matjaz Belsak

11 pts

JF Caron and Dainis Zagaris

10.5 pts

Andreas Altmann

8 pts

Stojan Todorchev

7 pts

Adin Anaut

5 pts
Watch IronMind for the final results.
by Randall J. Strossen, Ph.D. | ©2015 IronMind