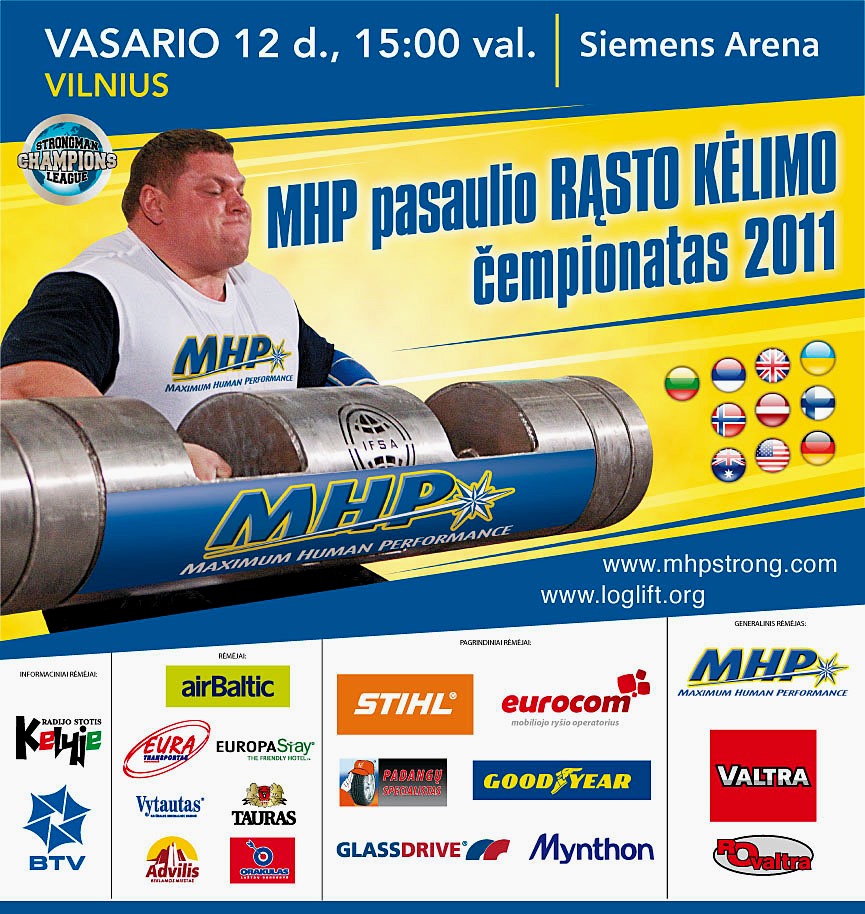 Strongman Champions League (SCL) "is starting early this year: We kick off on 12 February with the MHP World Championship Log Lift," Marcel Mostert told IronMind today, "and the first SCL competition will be the SCL Iceman on 18-19 March in Lapland."
Zydrunas Savickas, the only man to have won all the major titles in strongman, and a dominant figure on events that involve shoulder strength, will lead the parade when the MHP Log Lift World Championships come to the Siemens Arena in Vilnius, Lithuania on February 12. IronMind® | Courtesy of SCL.
"We expect to have 8.000 spectators as the entrance is free and there will be more strongman shows and demos to see that day in the Siemens arena, after the Log Lift World Championships
"The world championships will take one hour total, and it will be broadcast live on Eurosport 2.Explaining the format of the contest, Mostert said, "Every athlete will have three attempts, like in weightlifting, and it will be refereed by three referees," also like weightlifting.The starting weight on 12 February will be +170 kg, all done with the thick steel log (formerly used by IFSA).
"We expect at least four guys going through the 200-kg barrier and hopefully Zydrunas [Savickas] can do a new world record," said Mostert. Zydrunas Savickas holds the current world record on this event: 212.5 kg.
Here is the official start list:
Zydrunas Savikas Lithuania
Terry Hollands Great Britain
Konstantin Ilyin Ukraine
Bjorn Andre Solvang Norway
Agris Kazelniks Latvia
Agris Kazelniks Lativa
Vidas Blekaitis Lithuania
Tommi Lotta Finland
Erwin Katona Serbia
Warrick Brant Australia
Marshall White United States
Patrik Baboumian Germany
Vytautas Lalas Lithuania
So turn on your TV at 12 February, 14.00 European time, Eurosport 2, "It will be exciting!"
by Randall J. Strossen, Ph.D. | ©2011 IronMind